On 1 December 1918, the Squadron moved forward to Carmin aerodrome near Lille and then to Merheim, Cologne, where it was placed at the disposal of the Army's 2nd Brigade for duty with the Army of Occupation.
What flying there was consisted of mail carrying and communications. There is also evidence to suggest that a few Army staff officers had already realised the advantages of air travel!
On 10 May 1919, the Squadron moved again, this time to Hangelar where Major Elliot departed and was replaced by Major M H B Nethersole who was to remain with the Squadron until its disbandment.
The Squadron remained at Hangelar until 22 August when it was reduced to cadre status. On that day, the pilots flew their beloved Handley Pages for the last time as a Squadron, ferrying them to St Inglevert to be taken over by 100 Squadron who were embarking for duties in the Mediterranean theatre.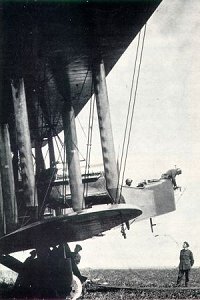 A better idea of the size of an HP O/400 bomber