St. Mary's has the tallest spire in the Vale of Belvoir and attracted WWII's last Luftwaffe raid. Some of 207 Squadron's casualties lie buried in the churchyard.

A Memorial Tablet to the 138 who were killed or made POW whilst 207 Squadron served at Bottesford from 18th November 1941 to 21st November 1942 was dedicated on Sunday September 17th 1995.

The unveiling was done by Wg Cdr Russell Jeffs AFC, one of 207's Commanding Officers at Bottesford, escorted by Bill Hamilton DFC AE and Wg Cdr Goldie Goldstraw DFC*, who also served there.

A Book of Remembrance was also placed in the church during the service.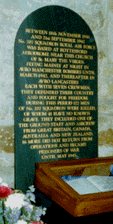 source: Winton



BETWEEN 18th NOVEMBER 1941
AND 21st SEPTEMBER 1942
No. 207 ROYAL AIR FORCE
WAS BASED AT BOTTESFORD
AERODROME NEAR THIS CHURCH
OF St. MARY THE VIRGIN.
FLYING MAINLY AT NIGHT IN
AVRO MANCHESTER BOMBERS UNTIL
MARCH 1942, AND THEREAFTER IN
AVRO LANCASTERS
EACH WITH SEVEN CREWMEN,
THEY DEFENDED THEIR COUNTRY
AND FOUGHT FOR FREEDOM.
DURING THIS PERIOD 122 MEN
OF No. 207 SQUADRON WERE KILLED,
OF WHOM 41 HAVE NO KNOWN
GRAVE. THEY INCLUDED ONE OF
THE GROUND STAFF AND AIRCREW
FROM GREAT BRITAIN, CANADA,
AUSTRALIA AND NEW ZEALAND.
16 MORE DID NOT RETURN FROM
OPERATIONS AND BECAME
PRISONERS OF WAR
UNTIL MAY 1945.

"LEST WE FORGET"