Lincolnshire is known as 'Bomber County' for the number of bomber stations it had during WWII. Lincoln's magnificent cathedral, towering on Lindum Hill was a familiar and welcome sight to many a crew.

The city is overlooked by RAF Waddington, where the restoration of Lancaster PA474 was initiated by 44 Squadron.

This aircraft, now named City of Lincoln, flies today with the Battle of Britain Memorial Flight from RAF Coningsby, not far from the city.

5 Group's Rolls of Honour are kept in the Cathedral.

The Bomber Command Ledger Stone Memorial was dedicated in the Cathedral on 27th August 2006.

On 3rd October 2013, the Squadron's Standard presented to 207 (Reserve) Squadron was Laid Up here.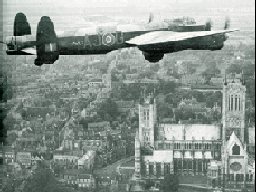 by kind permission of Brian Goulding, 'Dambusters' film Lancaster over Lincoln Cathedral (from 'Lancaster at War', Garbett & Goulding).