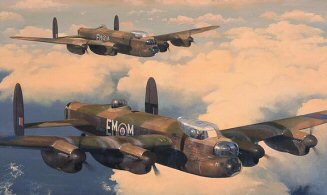 EM-M LL973 & EM-A LL902: (detail from Sunset Saviours by Robin Smith GAvA).

LL973/M, flown mostly by CO Wg Cdr JF Grey, & P/O CJ Mike Solly. Lost on Wesseling 21/22 June 1944 with the Solly crew: 3 kia, 2 pow, 2 evd). In LL973 Grey's gunners downed 3 fighters during one sortie.

LL902/A probably did the most Lanc ops on 207, crashing at Little Rissington 15 March 1945, F/O Michael Cooke's crew all died.