207 SQUADRON ROYAL AIR FORCE HISTORY
DEVON VP967
this page takes time to load as there are many large images
[2000] A recovery operation has been hastily undertaken by members of the East Surrey Aviation Group (ESAG) to save a De Havilland Devon, serial number VP967 (G-DOVE) from potential scrapping.


G-DOVE (VP967) being readied for dismantling
source: ESAG

VP967 was used as an instructional airframe at the East Surrey College, Redhill, but has recently [2000] been under threat from developers constructing the new Art Centre at the college. Over a three day period, ESAG together with Roger Greenwood (a volunteer from the Mosquito Museum) dismantled the Devon and moved it away from the developers until a suitable home could be found.

During dismantling, the airframe was found to be in a remarkably good condition. VP967's service log was retrieved, revealing that the airframe had only flown about 6,000 hrs. ESAG's recognition that the aircraft was at risk and stepping in to save it has resulted in the aircraft being donated to ESAG by East Surrey College.

It was originally hoped to put VP967 on display at the De Havilland Heritage Centre at London Colney, but due to lack of space ESAG have loaned the aircraft to Redhill & Reigate Air Cadets. On 29th August, under police escort, 150 Recovery Company (TA) - which had volunteered to do the move - took VP967 by road to the Redhill TA & ATC Centre, where it now proudly stands.

The history of the aircraft has yet to be fully established. Apart from service with 207 Squadron at Northolt, it served with 21 Sqn at Andover which operated Devons in a Communications role until 1976 when it disbanded.

VP967 later transferred to RNAS Culdrose, 1978-1981, where it saw service in the Fisheries Patrol at Lee-on-Solent spotting Spanish fishing vessels intruding into British waters. It was retired from service in 1982.

Plans to operate VP967 out of Biggin Hill, transporting consignments of fresh lobsters from Ireland to the Continent, fell through. After several years VP967 was acquired by East Surrey College and used as a gate guardian & instructional airframe.

Over the next 18 months, after preservation measures have been undertaken, it is planned to put VP967 back into 207 Squadron colours.

Contact Daniel or Kevin Hunt, ESAG, email daniel@esag.demon.co.uk

FlyPast March 2003 reports:
One time resident of the East Surrey Technical College, de Havilland Sea Devon C.2 VP967 (G-KOOL) was transported by road on November 30 2002 to Redhill Aerodrome, Surrey, from Goodwood, West Sussex. It had been at Goodwood since leaving the college in the summer of 2001.


VP967 at Redhill Aerodrome: source Daniel Hunt

Brothers Daniel and Kevin Hunt of the East Surrey Aviation Group have been very busy returning Oscar-Lima to its former glory and have already prepared and re-sprayed all the external surfaces. It was necessary to strip the aircraft back to base metal, so it could be etched primed and re­painted in its original RAF colours. During this work, many of its former schemes and badges were revealed, which spanned back some 55 years!

Despite its good condition, many parts were missing and these have now been sourced from as far away as Australia. A low-houred Gipsy Queen 175, complete with original storage box and logbook, has been acquired to replace the starboard powerplant.

Soon, fine detail paintwork will be completed and VP967 will wear the badge of either 21 or 207 Squadron, representing its pre-Royal Navy service. After the rebuild, VP967 will be parked on Redhill's flight line, where it will hopefully feature as a static display at open days.

The team would like to hear from personnel who flew in or worked on VP967 during its service days, or anyone who can help track down spares and equipment. Contact: Daniel Hunt by telephoning 01 737 243560 or e-mail daniel@esag.demon.co.uk

FlyPast June 2004 reports:
Devon's smart new colours: Following its 'rescue' from the East Surrey Technical College by Daniel and Kevin Hunt of the East Surrey Aviation Group in 2000, de Havilland Devon C.2 VP967 (G-KOOL) has now been re-assembled. Restoration to static condition took place at Redhill, Surrey, and this included a complete strip down to bare metal and a re-paint back into its former RAF colours.


The recently repainted Devon C2 VP967 at Redhill: source: Daniel Hunt

It is intended to have the aircraft completed in time for the Redhill Fly-in on August 15, where it is hoped that VP967 can be put on static display. Work recently began on building a concrete hardstanding for the Devon on the aerodrome's flight line, where it will be on show all the year round.

The team would like to thank Devon Air at Kemble, Glos, and Heron Airlines in Australia for their co-operation, along with Nick Baulf and Andy Scrase for all their valuable help and expertise. The group would also like to hear from anyone who has a suitable prop nut for one of the Devon's propeller units or a appropriate military spec Varley or Chipmunk 24 volt battery. Tel: 07769 688064.
---
Frank Haslam (editor) was at Redhill on August 15th 2004 and took these photos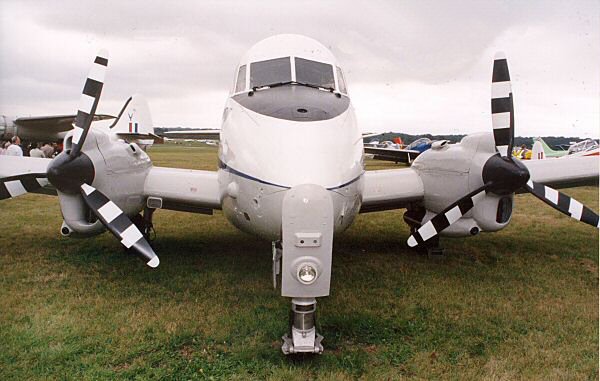 VP967-15 Aug 2004: Redhill: looking splendid externally after a huge effort by ESAG:
note another 207 aircraft type - a Pembroke - on left: source Haslam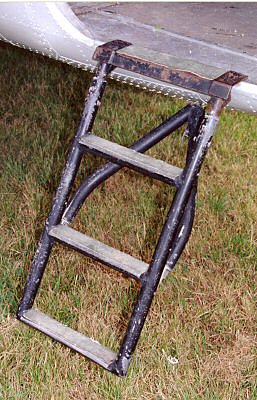 VP967-15 Aug 2004: Redhill: Into the aircraft - much work remains to be done on the interior:
source Haslam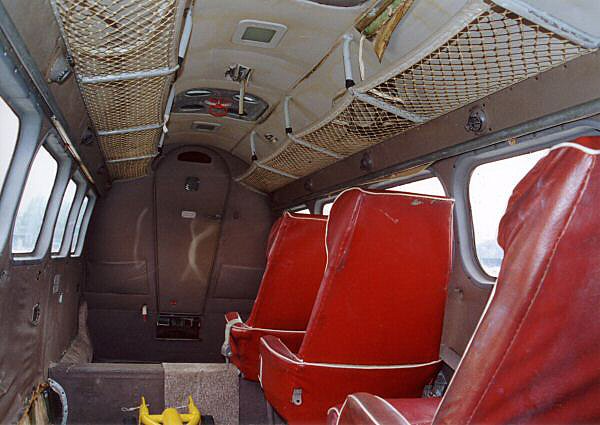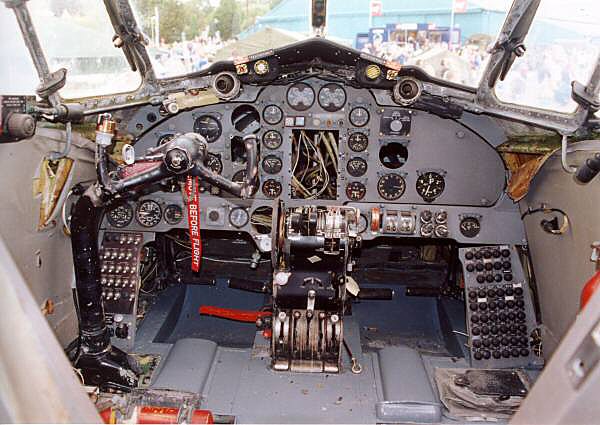 photo 15 Aug 2004

update 9 Aug 2005: The seats are restored and back in, a few more of the missing instruments have been sourced and fitted.

We are having a hard time filling the top panel with the missing kit. I would say the cockpit is about 60-70% restored.

We are also in desperate need of some good spark plugs as she is running a bit rough on the port engine.

Work is under way on repairing the interior cabin door which was badly vandalised while she was at the college.

Also trying to source the correct colour leatherette material for the interior lining. Daniel Hunt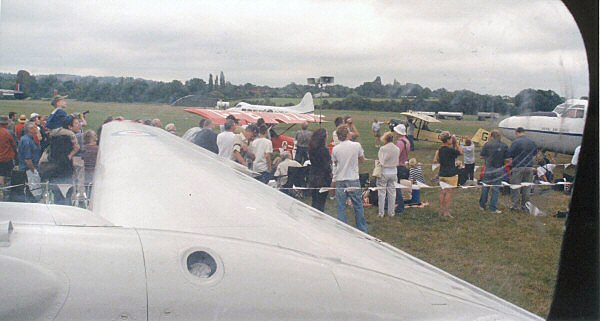 VP967-15 Aug 2004: Redhill: over starboard wing, G-OPLC formerly VP962, another 207 Devon:
source Haslam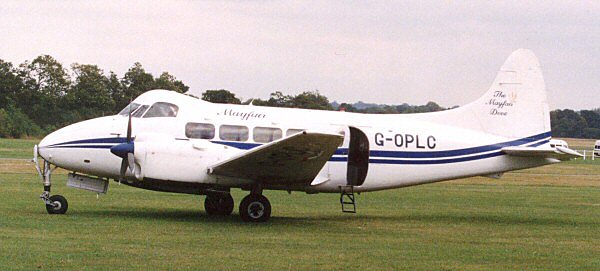 VP962-15 Aug 2004: G-OPLC The Mayfair Dove, formerly VP962, another 207 Devon, still flying:
source Haslam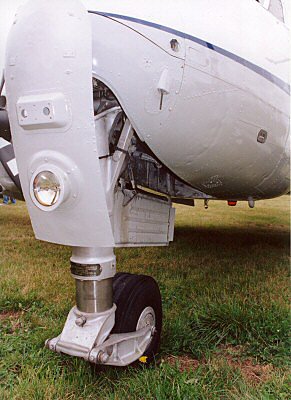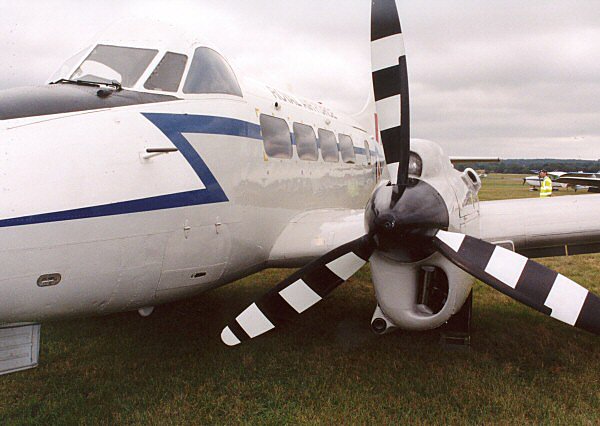 VP967-15 Aug 2004: Redhill: ESAG would like to return the aircraft to taxying condition
- know any former ground crew? source Haslam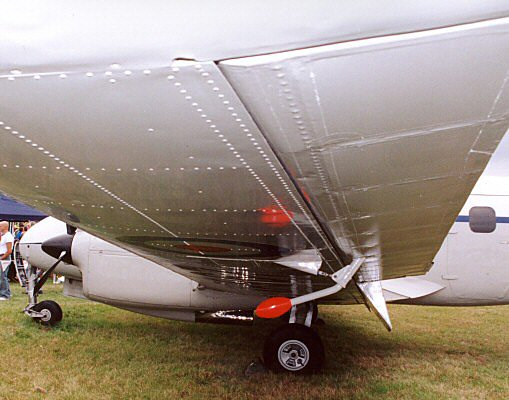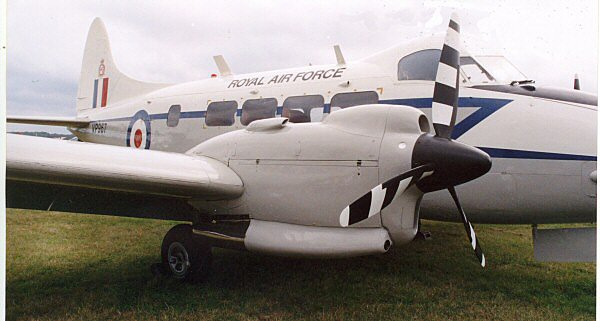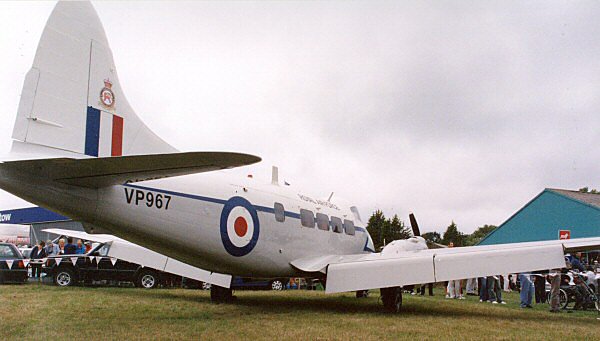 VP967-15 Aug 2004: Redhill: Icing on the cake - in lieu of the stylised badges: source Haslam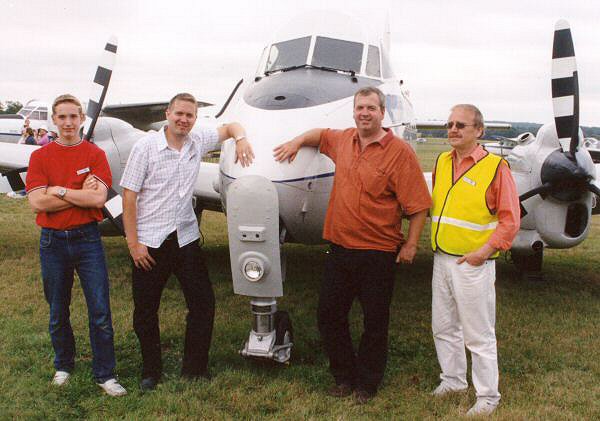 VP967-15 Aug 2004: Redhill: Some of the ESAG team: Daniel & Kevin Hunt centre: source Haslam
---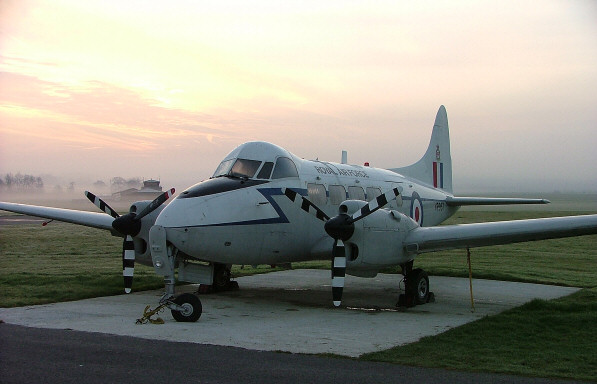 At 6am on a misty March 2005 morning: source D Hunt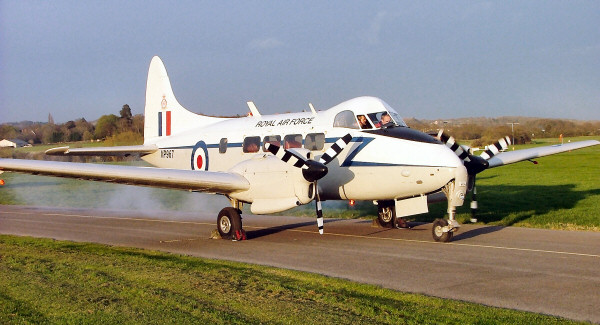 April 2005: Port engine on: source D Hunt
---
FlyPast August 2005: Starring role for Sea Devon

Filming recently took place at Redhill Aerodrome, Surrey, for a soon-to-be released two-hour TV drama about HRH Princess Margaret. Centre of attention during the shoot was the East Surrey Aviation Group's de Havilland Sea Devon C.2 VP967 (G-KOOL), which recently underwent an extensive restoration programme carried out by ESAG members.

The scene required not only both Gipsy Queen engines to run but also for the aircraft to taxi. After a frantic few weeks of activity, the volunteers brought the Sea Devon back up to running condition - with just hours to spare before filming was due to start!

The film is set in the 1960s [sic] and portrays Gp Capt Peter Townsend being met at the airport by the Princess. Brothers Daniel and Kevin Hunt, who founded ESAG, were roped into playing the ground crew in the scene!

VP967's military markings were temporarily - with a bit of artistic licence - transformed into a Festival Air Dove for the filming. [Margaret was aired on Channel 4.]
---

---
page last updated 10 Jun 10