I met David Balme towards the end of March 1943.
He and his crew were at 1661 HCU Winthorpe, and were nearing the end of the course. The Mid-Upper Gunner had fallen by the wayside so I was slotted in.
By the end of March we had joined 207 Squadron at Langar - one Flying Officer and six Sergeants, four of them scrubbed Pilots.After three 'second-dickie trips', we commenced our tour on Frankfurt, and I flew with David until the beginning of November 1943, operating on targets from Danzig to Spezia.
A vintage year, 1943, but few are here to remember it. It soon became clear how fortunate I was to be a member of his crew.Quietly confident, and calm when the Germans were angry, David was the type of pilot one hoped to fly with, but doubted one's luck.
Towards the end of the summer he was made boss of 'A' Flight and we operated less frequently, but it was always the easier trips that were ignored.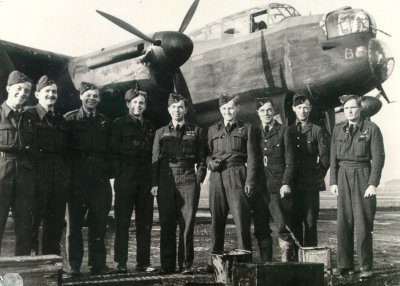 Balme crew complete their 207 tour: L-R: P/O Les Mitchell (R/G), Flt Lt Jimmy Moore (M/U), F/S Johnny Rumgay (A/B), Sgt Harry Thomas (W/Op), David Balme, Sgt Colin Lawes (Nav), Cpl Potter and another (Ground Crew), Sgt George Bashford (F/E)